A fresh take on prenatal nutrition advice from an anti-diet maternal wellness dietitian, blending principles of intuitive + mindful eating with current, evidence-based recommendations for optimizing health of both mama-to-be and baby in pregnancy and beyond.
Get information you know you can trust, for when it matters most.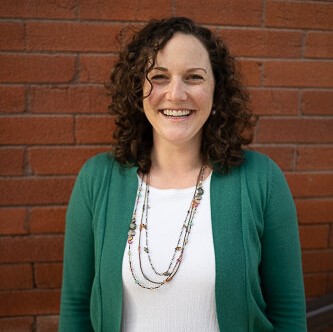 Hi, I'm Sarah O'Hara
Sarah is a Registered Dietitian-Nutritionist specializing in Reproductive + Maternal Wellness. She's also the mama of two incredibly adorable little humans, a dog-mom, and self-confessed coffee snob. She's an expert in nutrition guidance for fertility, Polycystic Ovary Syndrome (PCOS), pregnancy, postpartum, breastfeeding, and early infant feeding.
Her goal is to create a safe, judgement-free space for supporting women and their families with their nutrition and wellness challenges, and help them to optimize their vitality, health, and happiness throughout the ups and downs of real life. Sarah offers group and individual consultation services at MOSS, and also runs a virtual private practice.
What can you expect to learn?
This course is designed to make learning about prenatal nutrition easy and accessible from the comfort of your own space.
The content is divided into 11 modules, so you can access any or all of information that's relevant for you. Whether you're wondering about the basics like nutrients of special concern for pregnancy, what to expect for healthy pregnancy weight gain, or food safety in pregnancy; or you're looking to troubleshoot in other areas such as nausea, heartburn, or constipation - I've got you covered for content. 
This is more than just your basic nutrition for pregnancy course 
My goal is to translate all of this information into what's actually practical for you to use and include lots of tips and additional resources for ensuring that you can make the best choices the easy and enjoyable ones. I'm also really passionate about how mindfulness and community support can play a positive role in healthy eating for pregnancy, and as an emotional regulator for pregnancy and postpartum.
I dive into updated evidence-based nutrition recommendations for pregnancy, provide simple tips for eating well when you're expecting, and introduce principles of mindfulness in the context of pregnancy and early motherhood. The content is divided into modules based on topic, and makes taking a little time to watch them super easy to incorporate into your day - without having to worry about attending (yet another) prenatal appointment, all from the comfort of your own space.
Course Curriculum
Available in days

days after you enroll

Welcome
Available in days

days after you enroll

Course Content
Available in days

days after you enroll

Wrap Up